The Best Things in Life are Free, Part II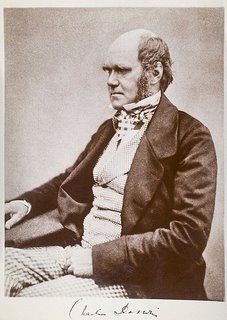 For science history enthusiasts, this is a banner weekend. Free events at the University of Wisconsin-Madison campus promise to be fascinating glimpses into the lives of two of the most ground-breaking scientists in history, Galileo and Charles Darwin.
The first event is tonight, Friday February 6, at 7:30 pm. A
concert
by the musical ensemble Galileo's Daughters (Sarah Pillow - soprano, Mary Anne Ballard - viola da gamba, with Ronn McFarlane - lute as Vincenzio Galilei) will present "Perpetual Motion: Revolutions in 17th Century Science and Music". This multimedia performance will include music played on period instruments along with remarks by
Dava Sobel
, author of
Galileo's Daughter: A Historical Memoir of Science, Faith, and Love
. Sobel's book is an account of Galileo's relationship with his eldest daughter, a cloistered nun. Over 100 surviving letters between them provide incredible insight into Galileo's scientific struggles, his close relationship with his daughter, and his complex relationship with the Catholic Church. He was ultimately convicted by the Inquisition for maintaining the heretical belief that the earth revolved around the sun. The concert will be held in the Margaret H'Doubler Performance Space of
Lathrop Hall
.
And on Saturday, an
all-day event
free to the public will celebrate the 200th anniversary of
Charles Darwin
, and the 150th anniversary of the publication of "
On the Origin of Species by Means of Natural Selection
", the first-published account of the theory of evolution.
Darwin Day
will include talks by
Sean Carroll
, a UW-Madison professor of Genetics who has written several popular books on evolutionary development;
Patricia McConnell
, an internationally-known expert on animal behavior; and other lectures, presentations, a workshop for teachers, and a panel discussion on science and the media. Darwin Day will be held from 9 a.m. to 4:30 p.m. in the Microbial Sciences building at the corner of Linden Drive and Babcock Street.
Labels: evolution, science event, science history